Every year you might hear in the marketing world that Is SEO dead?  But the reality is No! SEO is, in fact, alive and kicking.
While SEO is not dead it is evolving rapidly.
Read on to know more about what SEO has to offer.
Talk about SEO being a dying craft has been doing the rounds on the internet since its inception. Although there have been numerous changes to the way SEO is practiced now, saying it is dead would be a gross misstatement.
Let us first understand why the buzz about SEO being on its last legs arises every now and then. When SEO began, it was all about excessive and irrelevant link building, keyword stuffing, invisible or hidden texts and other such activities, which were known as Black Hat SEO. Although these methods are considered spammy today, in those times, they were popular as they garnered great results in a short period. But we must understand that what is trending today may become obsolete tomorrow (if not the whole, at least a part of it). As every year, a few optimization activities become obsolete or irrelevant (due to oft-released Google algorithm updates), people unnecessarily rant about SEO being dead.
So, what really is up with SEO? Those who are still in the business of SEO knows that it is, in fact, changing rapidly. And this need for constant evolution was first felt at Google. Google observed that a lot of spammy activities were being employed by webmasters to achieve better search rankings. This was hurting its intent of better answering user queries, as less-relevant results were appearing. This led to the rolling out of their first search algorithm change, the Florida Update, in Nov 2003. Since then, Google has introduced thousands of updates, all to serve one end goal, i.e. to provide quality and relevant information to users.

Is SEO Still Relevant in 2022?
Yes, SEO is more relevant than ever! In 2016, multiple companies and agencies spent roughly 65 billion dollars on SEO efforts in the US alone. The numbers skyrocketed to 72 billion dollars in the year 2018 and are expected to cross 80 billion dollars in 2020.
For example, if you search for the keyword "what is on page seo" you can see the results that how many people are trying to answer the query.

In other words, this staggering growth clearly indicates that SEO is here to stay! 
Google processes 2 trillion online searches per year; i.e. 5.5 billion queries per day. On an average, 51% of website traffic is organic or unpaid. And most of these users are those who are being driven to the sites that are ranking in the top five search positions of Google SERPs. Imagine the revenue this organic traffic can bring to you. Thus, to stay at the top of search results or to outperform competitors in your niche, it is important to have your website optimized.
Changing user behaviour has led to the overhaul of optimization techniques over the years. The following are a few of the biggest transformations in the field:
1. Increased Mobile Search
A breakthrough in the number of people using handsets or mobile devices made Google move towards 'mobile-first indexing'. This means that Google will consider the mobile version of a website's content for indexing and ranking it.
Check out this video of Google's John Mueller what he has to say about Mobile-first Indexing.
2. Rich Snippets

Introduced by Google in May 2009, rich snippets have helped users find a lot of information on the SERP (search engine results page) itself, without having to visit any sites. This information may include, ratings, votes, read time, calories, etc. 
Check out this video to know more about Rich Snippets.
3. Google AI Algorithms like RankBrain

RankBrain is a machine learning-based search algorithm that helps Google process search queries and provides more relevant, contextual results to users, based on the intent of the search.
4. Featured Snippets

A featured snippet is an information box that shows up above the organic search results of a SERP. It contains the precise answer to a user's search query. The featured snippet may also be shown in response to voice queries.
5. Voice Search
Voice assistants have improved a lot since their inception. Siri, Google Assistant, and Cortana have come a long way and have successfully intrigued users into using them. This has resulted in a steady increase in the number of voice search queries. Remember that longtail keywords are the key to success if you wish to optimize for voice search. 
"Here is the global smart speaker market share, a survey done by "voicebot", which shows how much these smart speakers will be used in the coming years".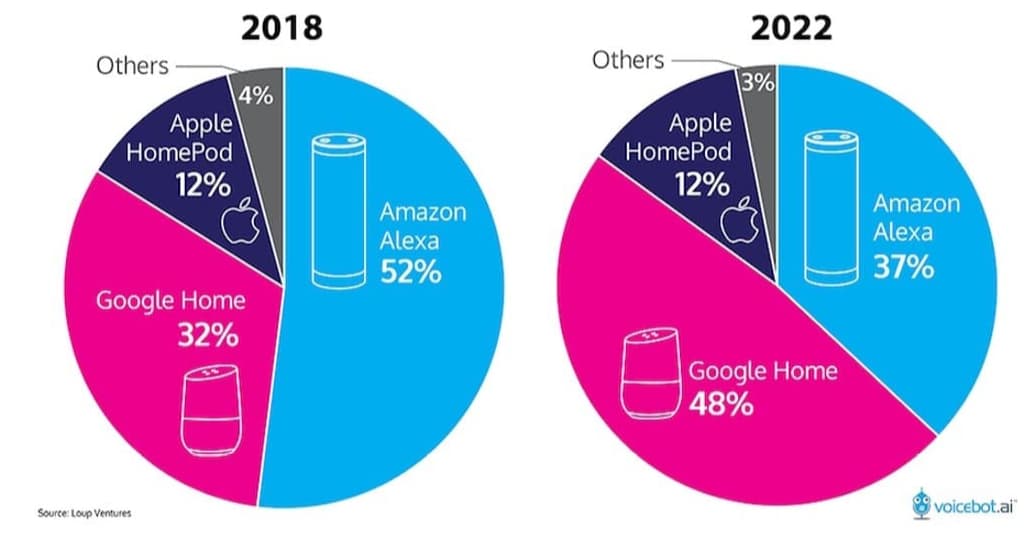 Also Read:
Conclusion
SEO is not dead in 2020, it is evolving.
Old practices will not work anymore and instead, could lead to huge penalties. In such a scenario, keeping yourself up-to-date about all of Google's search algorithm updates is the only way forward.
Popular Searches
History of Google | Types of SEO | On Page SEO | Google Search Ranking | What is SEO | What is Digital Marketing | Technical SEO Checklist | Website Structure | Google Reverse Image Search | Google Ranking Factors | Structured Data SEO | What is Cloaking | What is Featured Snippet | HTTP Error Codes List | What is Off Page SEO |  SEO Company | SEO Penalty Recovery Services | Digital Marketing Services in India | SEO Audit India | Local SEO Services  |  What is YouTube SEO  |  Google Knowledge Graph  |  301 Redirection  |  Sitelinks  |  What is Lazy Loading  |  Local Citations  |  Alt Text  |  What is WordPress SEO  |  Meta Description  |  Youtube Keyword Research