Search engine optimization or SEO is the practice of getting search engines to recognize and make your website or business visible to more people irrespective of their location. But Local SEO is all about getting local customers straight to your business and getting a quick lead that converts into a sale. Local SEO works irrespective of whether the customer lives close to your business location or not. All that matters is that when the customer is within your business's territory and is able to find you. But what are the benefits of local SEO and why is it so important?
Why Local SEO is important 
Before getting into local SEO and its importance, it is crucial to know what local search results are. Local search results are the top three most relevant results that display a business's open hours, rates, numbers, reviews, address, and the services they offer. They appear even above organic or regular search engine results and are often more trusted and clicked on. Local SEO is the practice of using local SEO tools to increase your online presence among users and visibility on search engines. Local SEO is important for the simple reason that it has the potential to bring more customers to your business.  It is especially essential for those businesses that earn most of their revenue through in-person visits. These include hotels, cafes', restaurants, private medical practitioners, lawyers, florists, fitness centres, salons, and the like. To ensure your local SEO is working beyond its potential, you need to use local SEO services or local SEO tools. These tools are mostly paid but are also free up to a specific level. 
To help you ace your business listing in SEO, you should use at least of these best local SEO tools: 
1. Google My Business
Google My Business is a free and easy-to-use local tool. Apart from helping you curate a unique profile, Google My Business allows you to track the ways your customers reach you. By seeing the number of views, searches, and clicks you receive through different ways you can optimize those areas that aren't working well. Moreover, you can track the performance of any paid campaigns, ads, offers, events, and any third-party linking. It also allows you to analyse competitor performance and includes relevant CTAs that convert more leads. You can use it on a desktop or on your smartphone if you are on the go.
2. Whitespark
Whitespark is one of the most popular local SEO tools used by some of the biggest players in the business. The tool provides multiple tools to improve your business listing in SEO and the results you get are high-quality. With Whitespark, you can track your organic and paid search performance, and analyse competitor performance too. A beneficial feature of Whitespark is its instant notification alert that you receive in case of a bad customer review, so you can take immediate action. Some other features include the local citation finder, reputation builder, and the link prospector tool. Whitespark is free for limited searches. For unlimited access, it has affordable monthly/ yearly subscription packages. 
 3. Yext
Yext is one of the best local SEO tools out there. Yext is an integrative SEO tool that combines all your business information across multiple platforms. It has a knowledge network feature that ensures your business listing in SEO remains consistent and correct across each of its partner platforms. These platforms include some of the biggest apps, search engines, and social networks such as Facebook, Google, Yahoo, Apple, and more. Its patented duplicate suppression and Match & Lock feature ensure you stay safe from any copied and fraudulent listings, making sure no one except you can make any changes to them.
 4. SYNUP 
Synup is an all-in-one SEO service tool that has niche-specific SEO and local SEO tools. It helps you manage your listings and syncs them across multiple search engines, apps, and directories. Like YEXT, it integrates your business data onto other sites in seconds and in real-time. It also crawls over 200 local search engines to spot any inconsistencies in your listing and notifies you of the same. Moreover, it lets you track your keyword rankings, traffic, competitor performance, and more. Its customer review management tools ensure you get notified of a review instantly and let you respond to them by switching windows.
 5. MOZ Local
Like Yext and SYNUP, Moz Local integrates your business listing in SEO data over major and popular search engines, third-party apps, and online directories. Moz Local keeps an eye on the consistency of your local SEO listings and sees its performance. Updating your listing from time to time is also not a problem with Moz – all it takes is a simple login. It also has an inbuilt keyword explorer and keyword metric tool to figure out what your potential customer is searching for. Along with helping you assess your listing performance and track your reach, it provides automated weekly insight reports to increase your customer reach.
 6. Brightlocal
Brightlocal is another multi-purpose local SEO tool. It enables you to view your search rankings and listings over thousands of locations. While the tool requires a manual entry of your business listings, it makes up for this with a plethora of top-tier features. With Brightlocal, you can monitor citations across various websites, find relevant keywords, track keyword performance, and build up new citations or clean up existing ones. You can also respond and manage reviews over 20 partner websites, get easy-to-understand custom SEO reports, and manage all your leads in one place. 
 7. SEMrush 
SEMrush is another comprehensive SEO and local SEO tool that is very popular. SEMrush has a centralized listing dashboard too, so all you have to do is enter your details and leave the updating to the tool. It instantly publishes your data over its partner directories, apps, and search engines. You can manage your performance and customer reviews all in one place. Its position tracking tool also lets you analyze competitor performance and see which keywords can get you to the top spot. The keyword research and backlink checking tool are other features of SEMrush that make it a very viable option. 
8. Growthbar 
Growthbar is actually a Google Chrome creation. It is a very affordable local SEO tool that is available as a Chrome extension or a standalone application. The main purpose of Growthbar is to show you which keywords are performing best on search engines and taking the top spots. By assessing the best-performing competitor keywords and their search volumes, you can climb local SEO search rankings. It also allows you to analyse your backlinks, organic traffic, and domain authority. 
9. Google Analytics 
Google Analytics is a tool that is partially free and paid (for the premium SEO and local SEO services). As it gives you insights that only a Google-based AI can give, it helps you climb up the ranking ladder on Google with ease. You can compare both organic and non-organic insights, find the top-performing keywords and landing pages, and create a custom dashboard for your business. By discovering relevant customer trends and patterns, Google analytics helps local businesses thrive.
10. Google Search Console
Google search console is a free SEO and local SEO tool that helps you understand how Google views your business website and online presence. It provides a complete analysis of search traffic and user engagement and helps you track the performance of your keywords. But the best part of the Google search console is the security services it provides. It controls issues such as indexing, spam, hacking, malware, duplication and the like and also controls troubleshoot errors, site load problems, and others. It also shows you which sites link to your business website and maintains the overall user-friendliness of your site or listing.
11. GEO Ranker 
GEO ranker is another noteworthy tool in the list of best local SEO tools. GEO ranker helps create clickable citations for your business and track your local search rankings. It does this in a very unique, visually appealing way. It shows how your website or listing ranks across various national and global locations in real-time through colour-coded heat maps. It also has a keyword density, keyword suggestion and citation tool to up your game amongst your competitors. You can also use the tool to assess your key performance indicators and manage your ads and campaigns.
 12. BiQ 
BiQ is another local SEO tool that offers real-time tracking solutions. But what BiQ specializes in is in identifying the current gaps in your keyword usage and content strategy and finding unique ways to close them. After helping you find critical SEO and local SEO issues in your content, it leads you towards finding the keywords that are top-performing on search engines. By finding short and long-tailed relevant keywords, it helps you recognize user intent to boost your conversion and sales funnels. It also helps you track how your competitors are performing and what keywords are helping them rank at the top.
13. Review trackers 
Review trackers are one of the fastest traction-gaining SEO and local SEO tools in the digital industry. The main aim of review trackers is to get more conversions and sales through customer and brand reviews. To improve your online and offline presence and engage more customers, the tool helps you manage all your listing information at one stop. The company believes that social testimonies and positive reviews build trust and drive more conversions. It also streamlines your business listing data over 1000+ partner apps and engines to make it easy for you.
Stay one step ahead of your competitors with local SEO
Using local SEO tools helps you stand out amongst your competitors and lead the customers right to you. Ultimately, it aims to amplify your online presence and boost your revenue. Moreover, it is more inexpensive and affordable than paid advertisements, so you have a lot to gain by shifting your focus on enhancing your local SEO. 
Read More :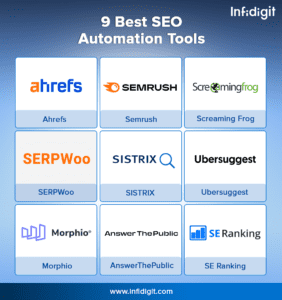 Popular Searches
Google Web Stories | Slug | Outbound Links | Toxic Links | Technical SEO Tools |Guest Blogging | What is ROAS | Mobile Marketing | Google Tag Manager | SEO Periodic Table | Bot Traffic | 404 and Soft 404 Errors | SEO tips for Online Grocery Stores | Google Bert Update | Robot.TXT and Meta Robot Tags | 301 Redirects | Mobile First Indexing | Podcast SEO | W3C Validation | Link Building Tools | Local Citation | Google Multisearch | How to Deal with Plagiarized Content | Increase Youtube Views | SEO Job Interviews Questions Answers | What are the Types of Digital Marketing | What is Search Engine Optimization | What is Canonical Tags | On Page Optimization Techniques | Types of Off Page | Link Building Services | What is Image Optimization in SEO | Boston SEO | SEO Company Dallas | Houston SEO Services