What is Slug?
As a beginner in SEO, you must have frequently come across the term slug. If you are using a tool like Yoast SEO, you would have also come across color-coded highlights on your dashboard to optimize your slug.
But what is a slug? 
In simple words, a slug in WordPress is the part of a URL that identifies or specifies what that particular page is all about.
If you look at this web page's URL slug, it would read: the URL, where the slug after / instantly gives you an idea of what the content, post, or page will be about.

The Importance of Slug in SEO
Now that you are aware of what slug is in SEO, you need to understand that your page's ranking immensely depends on it. 
Slug is the first element search engine crawlers read and that's why it is important for you to keep your slug and the title of your posts relatively consistent. This is similar to how title tags influence SEO, slugs influence your onsite optimization strategies. 
Having the right slug ensures your website or web page has SEO-friendly URLs that will not only boost rankings but also compel your visitors to click on them.
What is the difference between a URL Slug and a URL?
The URL refers to the complete address of a Web page. The URL slug, on the other hand,  is a portion of the URL and is vital for improving your page ranking. It is also essential from a keyword point of view. 
For example, if you are searching for 'how can I apply for a personal loan', the URL slug 'how to apply for personal loan' will display at the top because it reflects the long tail keyword. A good SEO slug also aids search engines in interpreting the intent of the overall content. It would be a good practice to avoid using special characters when building a URL or a URL slug.
Do Slugs Impact Rankings?
Yes, they do. Slugs usually contain the primary keyword, which is then identified by Google's search engine bots to rank your webpage. Search engines prefer keyword-rich slugs, and this approach will give you a better chance to rank your posts higher on the search engine results page.
One of the best aspects of creating a slug is that it entirely depends on you as the page owner. You can customize your slug the way you want and choose the keywords you want to rank for. This ensures both search engine crawlers, and ultimately visitors are encouraged to click on your link.
If you are using WordPress, it's easy to edit a slug for the posts you are creating. To give you a better idea of this, the following section is designed to give you a walkthrough.
How to Edit a Slug in WordPress for a New Post?
For the uninitiated, a slug is a term that stems from WordPress and its community. When you install WordPress without configuring your permalink settings, your final URL would read something like this: wwww.domainname.com/?rt=564 or something similarly random. 
As you can see, this is not SEO-friendly at all. If you are writing on a crucial topic and building the visibility of your website, potential visitors could easily pass your website to be a scam or question its legitimacy. Such users would not click on your link at all, regardless of whether your content is gold.
To avoid such instances, you need to edit your slug. 
Here, you will see a number of options on how your URL could look. Usually, they have URLs classified into: 
Random alphanumerics assigned to your URL

Day and name, where your URL has detailed information on the day of posting along with the title of the post

Numeric that has numbers

Post name that has the title of your post as the final URL

And an option to create a custom structure for your link
Ideally, select the option with the post name. This is because you would have already used targeted keywords on your post's title.
Apart from changing the permalink structure of all your posts, you could also create or edit slug as and when you develop new content for publishing. When you create a new post, you will find the option to edit your slug below the title of your post. Once you finalize your URL structure, you can simply click on OK and finalize your page's slug.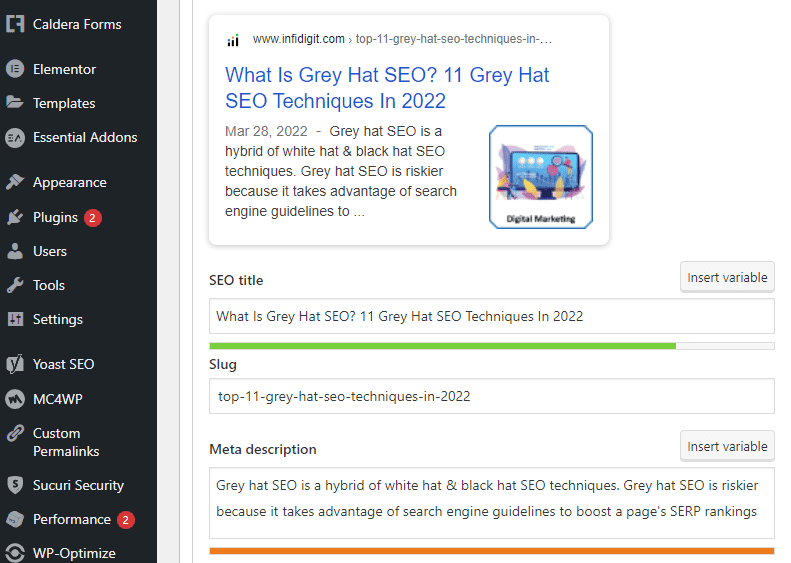 Tips to Optimize Your Slug
Editing a slug is just 50% of the task. The remaining 50% boils down to optimizing it for performance and SEO. Slug optimization is crucial as it gives your webpage a boost in terms of visibility and ensures it reaches your intended audience.
Also, slug optimization helps you give a better structure to your URLs. For instance, if your post's title is Top 10 Benefits Of Aromatherapy In Weight Loss For Beginners, WordPress (or any other platform) would show your URL as www.exampledomain.com/top-10-benefits-of-aromatherapy-in-weight-loss-for-beginners. 
While this has a slug structure, it serves no purpose as it's too wordy and could confuse search crawlers (and readers). This is why you need to optimize it to something more specific. For better WordPress SEO, you could change the structure to just aromatherapy-benefits-for-beginners and get the attention of your readers instantly as well.
Slug optimization is key. To give you a better idea of how to approach this, here are some quick takeaways. 
Always include the keyword you are focusing on in your slug. Start doing this as a ritual before you publish any of your posts. The focus keyword is the primary keyword you are eyeing to rank for. For assistance, you could use tools like Yoast SEO to check if the focus keyword is present in your slug. 
Stop words are phrases or words that are unnecessary in a URL structure. They are words that would make your slug still meaningful even if removed. For example, articles, numbers, prepositions, and more.
Short slugs are easy on the eye, are instantly understandable by visitors, and are SEO-friendly as well. If you revisit the example we mentioned previously, aromatherapy-benefits-for-beginners is actually short and precise.
One reason for doing this is that sometimes people directly search using the terms aromatherapy benefits for beginners. When such search instances happen, your slug would exactly match the search term and be visible to your audience.
This is a minute detail that's worth discussing here. When you are editing your slug, ensure the words are always in lowercase. There's a technical reason for how it ultimately reads and appears. Web servers such as Apache interpret URLs with lowercase letters differently from those with uppercase letters.
Separate Words with Dashes
Always use the character '-' to separate your words in a slug. This is the universal practice and if you have been using any other character, resort to '-' from now.
Wrapping Up
Optimizing slug is an effective yet simple way to boost your webpage's online visibility. There's nothing complex or intricate about slug editing and optimization. All you need is some hands-on exposure to what happens if you use different slug structures and identify the best way to structure it.
Read More :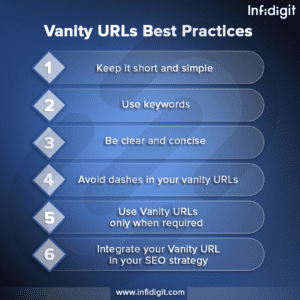 Popular Searches
List of Search Engines | Top Google Searches | Importance of Digital Marketing | Importance of  Website | Youtube SEO Tools | Types of SEO |Website Structure | Benefits of SEO | Cloaking |Google Sandbox | SEO Friendly Website | Blog Commenting for SEO | Server Side Rendering Vs. Client Side Rendering | Youtube Trends | Types of Sitemaps | Social Bookmarking |Off Page SEO Checklist | HTTP Status Codes | Vanity URL | SEO Vs. PPC | Best SEO Blogs | Benefits of LinkedIn Ads | Keyword Density | How to Use Keywords in Blog Posts | Website Migration | Digital Marketing Types | Search Engine Optimization | Canonical Tags | On Page SEO | What is Off Page SEO | Link Building for SEO | Image Optimization | SEO Company in Boston | Dallas SEO | SEO Company Houston