Without link building, a digital marketing strategy is like a ship without a rudder. You won't be successful as a digital marketer if you don't prioritize link building and use link-building tools. Link building is the practice of gaining high-quality links to your content/Web page to improve your visibility on the search engine. 
However, the easier it appears, the more complex it is. You will need powerful search engine optimization (SEO) tools to assist you with link building. A good SEO link-building tool will help you reach out to new audiences, generate more organic traffic, and improve your website's domain authority.
Link Building Tools 
Ahrefs is one of the most preferred SEO link-building tools across the globe. It has one of the largest backlink databases in the world. You can also use this tool for site audits, content audits, keyword research, and many other tasks. Ahrefs is available for a monthly subscription of $99.
SEMrush is an advanced SEO link-building tool with strong link-building prowess. You can use this tool for backlinks analysis, finding link-building possibilities, and performing outreach. In addition to link-building tools, it also offers tools for content marketing, SEO, social media marketing, and more. It is available on a monthly subscription starting at just $99.95. 
Link building success hinges on finding the email address of the right prospect. Hunter.io, an email search tool, is your best ally for this purpose. It swiftly identifies email addresses linked to any website. It also verifies the email address and helps you track whether the given address is active.
When you send an email to the wrong address, it bounces back. The entire link-building campaign is delayed as a result of this. NeverBounce assists you in determining if an email is invalid, valid, or disposable. You can even automate the entire process by combining Zapier integration with Google Sheets. 
Buzzstream is a service that focuses on increasing your email outreach. It enables you to manage, personalize, send, and track emails from a single place. This link-building tool is available as a Chrome extension that makes the link prospecting process go faster. Its subscription starts at $24.
Majestic SEO primarily focuses on backlinks. It boasts of one of the most extensive crawler systems. Its data includes both trust flow and data flow, which measure link quality and quantity, respectively. Some of the other significant features of this link-building tool are business profile checker, custom reports, share campaigns, and metrics history. 
Moz is another SEO link-building tool that aids in analyzing any website's backlink profile. You can use this tool to eliminate bad links, find link-building opportunities, and fix broken links. It also highlights the most common anchor text sites that link to your website. Moz paid subscription starts at $99 a month. 
Sitechecker offers the two best link-building tools: backlink generator and backlink analysis. The former aids in obtaining free links to a page, whereas the latter aids in the evaluation of backlinks for various time duration. This tool is available on a monthly subscription basis, starting at $29.
Ubersuggest investigates the backlinks of your top-ranking competitors. It also provides you with information regarding where they acquire their links from. This link-building tool also provides keyword research, insights on ranking difficulty, cost per click (CPC), and other important SEO metrics. Ubersuggest comes with different plans: individual ($29), business ($49), and agency ($99). 
With a monthly subscription starting at $299, this SEO link-building tool is great for outreach, influencer research, and digital PR. It aids you in analyzing the backlinks to articles by influencers. You may also set up notifications and track the performance of your competitors' backlinks, social media, and site domain.
Snov.io is an outreach tool that allows you to set up drip campaigns. It integrates with a customer management system to convert leads from prospects. Snov.io is ideal for lead generation, email lookup, and cold outreach. The tool also has an email verifier feature, and its database has around 90 validated emails.
Linkody specializes in developing link strategies, analyzing competitor link profiles, and reviewing backlinks leading to your domain. Its SEO metrics functionality pulls information from Majestic, Moz, and other third-party backlink checkers. The dashboard on this tool allows you to access top anchors, lost backlinks, unfollowed backlinks, and more.
13. GroupHigh
Blogger outreach is essential for a successful link-building campaign. And this is where GroupHigh can assist you. It does not just provide quick access to blogger contact information, but it also assists in all stages of blogger outreach. It can aid in relationship building and the acquisition of high-quality backlinks.
14. JustReachOut
This SEO link-building tool is ideal for PR campaigns. JustReachOut helps in obtaining links from news or media websites. It establishes a process for identifying the relevant contacts and makes recommendations on how to pitch them effectively. The tool is billed yearly, with a monthly subscription starting at $99/month.
15. NinjaOutreach
NinjaOutreach can assist you with influencer marketing, prospecting, and outreach. The key features of this tool are link building and management, business lead generation, and contact relationship management. It also includes several link-building campaign templates. Inviting testers, link requests, and broken link building are just a few of them. The tool's monthly subscription ranges from $69 to $599.
16. Link Prospector
Link Prospector is one of the best link-building tools to boost your reach. It generates 16 various reports, each of which is usually relevant to one of these four areas: public relations, outreach, content development, and conversation. The outreach report focuses on links pages, blogs, directories, reviews, and more. 
17. CognitiveSEO
cognitiveSEO primarily focuses on analyzing backlinks. The two key features of this tool are unnatural link detection and domain profile influence. The former allows you to spot fishy links to your site whereas the latter aids in determining the percentage of links originating from authoritative sites. cognitiveSEO monthly subscription fees range from $99 to $499.
18. Pitchbox
Pitchbox is an outreach tool. It is suitable for large-scale guest posting and link-building campaigns. The built-in campaigns available on this tool include product reviews, link removal, blogger outreach, advanced search, and more. The tool also provides metrics filters. Pitchbox is priced between $195 and $395 respectively.
19. Monitor Backlinks
Monitor backlinks can help you keep track of your own and other websites' backlinks. To use this tool, simply enter the domain name and a list of all follow/no-follow links to that domain will be displayed. Additionally, the tool sends personalized emails notifying you of fresh backlinks that your competitors recently received.
20. HARO
HARO, or Help A Reporter Out, is an SEO link-building tool that brings together industry experts and writers (journalists). When a writer submits the request source, HARO delivers three emails to its users along with the source. The users then propose related requests to get media attention.
21. URL Profiler
URL Profiler assists in extracting a variety of metrics and statistics linked with URLs. It can be used to audit several URL links profiles or to create a content inventory. When performing a link audit, this tool does not require the use of a proxy. The monthly subscription for the tool is tagged between $29.50 and $99.95.
The more backlinks your website/Web page has, the more likely it is that your ranking will improve. Some of these tools are also available in free versions. However, a small investment can help get the best outcomes for your business.
Read More :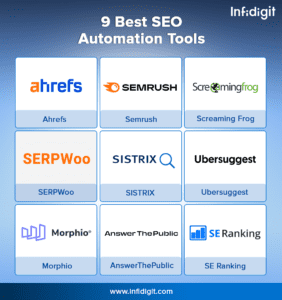 Popular Searches
Ad Groups | SEO Tips For Creating Better Content From Google John Mueller | Display-Advertising | Redirects | Anchor Text | Pogo-Sticking | SEO Competitor Analysis | Google Penalty  |Common Robots Txt Mistakes | Breadcrumbs | Seed Keywords | Rankbrain Update |Search Term |SEO Skills Required To Become An SEO Expert | Social Media Marketing | Mobile Optimization | Content Ideas | Pagination | Website Speed Optimization | SEO For Yahoo | Natural Links | Importance Of Robots Txt | Local Link Building |Low Competition Keyword |Pdf SEO | How Many Types Of Digital Marketing | What Is SEO And How It Works | What Are Canonical Tags | On Page SEO Technique | Importance Of Off Page SEO | Link Building SEO Services | How To Do Image Optimization | Dallas SEO Agency | SEO Service In Houston| Boston SEO Company