We all are aware of black hat SEO techniques and the horrid impact it has on website rankings; if detected by Google. If you have an SEO agency, you must be aware of the manual penalty imposed by Google if it finds you indulge in these black hat SEO practices. For this very reason, businesses are moving away from black hat SEO and leaning more towards white hat and technical SEO.
However, there is a new strategy used by competitors to ruin your efforts and jeopardise your rankings. It is called negative SEO and it could hamper your rankings in a really bad way.
What is Negative SEO?
Negative SEO refers to the tactics and strategies aimed towards ruining the rankings of competitors and to reduce their organic traffic. Businesses intentionally implement black hat SEO techniques on their competitor's website to destroy their SEO efforts. 
Let us find out how competitors do this and how to stay safe from these negative SEO attacks.
Types of Negative SEO
Negative SEO has evolved over the years. It started with backlinks where site owners listed their competitor's links to bad toxic websites. This resulted in bad spammy links, which could be resolved by adding them in the disavow file. 
However, in 2020, there are many ways for attackers to perform negative SEO. It is much more serious in the current scenario and also hard to detect.
Attackers use off-Page SEO techniques as well as on-Page SEO strategies to hurt their competitors' rankings and organic traffic. We have compiled a list of such negative SEO strategies to keep you informed and safe from such attacks.
Negative Off-Page SEO
This involves attackers using off-Page SEO techniques to hamper the website's rankings. They are mainly focussed towards creating bad backlinks that point to the website.
We are all aware of this grey hat SEO practice. Let me give you an overview of link farms. Link farms are a group of similar inter-connected websites. The sole purpose of these websites is to provide hyperlinks to boost certain page/s of your website. Site owners used link farms to increase their page rank and achieve good rankings in SERP. However, in 2012, Google's Penguin algorithm severely punished such websites. This was the end of link farms.
Attackers leverage this technique to send a large number of spammy links from link farms to target website. Google detects this activity which results in a sudden drop in the rankings of the targeted website.
Tips to recover from this
Let us be honest! We have no control over these sudden backlinks which are being sent by our competitors. However, a good practice would be to regularly check the backlinks to detect such malicious links. 
You could use the SEMrush tool to perform a backlink audit

Look out for backlinks that have a very high toxic score and make sure to add these to the disavow list. This disavow list then needs to be submitted to Google via the search console. This prompts Google to disassociate your website from these spammy links. This will help your website recover from these attacks and retain the keyword rankings.
This takes jealousy to a whole new level. Competitors stoop so low that they tie up with people and organisations to write fake reviews about your business. This significantly affects your website presence on the SERP as it gives Google a bad impression of your company. Bad 1-star reviews also affect your local SEO rankings. This can get very serious. You can start losing the customer's trust in your brand.
How to recover from this
Google is very strict when it comes to fake reviews. They also have a policy in place that discourages paid reviews. 
You can go to your Google My Business account and evaluate the reviews that your company is receiving. Look out for any fake reviews that make no sense. Once you have found such paid reviews, make sure to flag them. There is a small report you will have to fill, after which, Google will remove these fake reviews from your listings. 
This is a black hat SEO technique that involves scraping (copying) your website content and posting the same on multiple websites. This results in duplicate content. In the older days, site owners used this technique to rank higher in the SERP and got away with it. Then came the Panda algorithm update which was pretty good at discovering such duplicate content. Sites using this technique were severely penalised.
Attackers use this to their advantage. They copy content from one website and post them on multiple other websites. Sometimes these pages with copied content might get indexed by Google first. This will de-index the original page and impact their rankings. 
How to recover from this
Many competitors are using this scraping technique. There are many tools out there that help identify such scraped content on the web. Copyscape is one such tool. It helps to locate copies of a particular page that have been scrapped by the competitors. Another way to find duplicate content is using tool such as Quetext This shows which pages have content similar to the original page. 
If you locate these scraped pages on your website, contact the webmaster of these pages to remove the content from the copied website. If that does not work, you can reach out to Google and inform them of this scrapped copied content. You can fill this copyright infringement form.
Pogo sticking occurs when users click on a page in the SERP, don't find what they are searching for, and exit the page. This usually happens when a user searches for a term in Google search engine and finds a page which does not answer his query. Google keeps track of this pogo-sticking. For Google, this means that the website is not a correct result to display in the SERP. This results in dropping of the website's ranking. 
Attackers use special bots that crawl the search engine for the keywords which rank your website higher. These bots then click on your website and quickly exit the page. This gives an illustration of pogo-sticking. This severely impacts ranking of your website and online traffic.
How to recover from this
Keep a close eye on your important pages that your website is ranking for. Look out for important metrics for these pages in Google analytics.
Go to Google Analytics -> Site Content -> Landing Pages. Observe the "Bounce Rate". See if you are experiencing some unusual behaviour in the "Bounce Rate" of your web-page/s. This will give you an idea of whether your site has been attacked by this negative SEO technique.
Negative On-Page SEO
This involves attackers altering on-Page elements of your website which cause serious implications. This eventually leads to a drop in rankings and traffic.
Making changes in Content or Code 
This requires some high-level hacking specialisation. But if you are a bitter rival, competitors can go to an extreme extent. The attacker tries to find any security holes in your website backend and eventually use it to their benefit. That is why opting for an SSL HTTPS certificate is all the more important.
If your security is compromised, the attacker can get access to your website code and content. They can then alter the code so that you will be shown a different version of the page while your users see a completely different page. This is dangerous for your website ranking.
How to recover from this
Always make sure that your backend software, and all the classes and elements used to build your website, are up to date. Additionally, it is important to create a script that takes a backup of your web-pages. If your website is attacked, it will be easier to recover to the previously saved version.
Perform SEO site audits regularly and always update your security certificates. Purchase a valid SSL HTTPS certificate. This will protect your website against hackers and also give a boost in its ranking (HTTPS is a ranking factor).
DDoS (Distributed Denial-of-Service) attack is a tactic where a large volume of traffic is sent to your website by the attacker. This crashes the server and makes your website unusable. Users will have a dreadful time surfing your web-pages. 
Attackers use these DDoS attacks to significantly increase the load on your server. This hampers the users' experience with the UI. Many might even be unable to open your website. And most importantly, the Google spider will not be able to crawl your web-pages. This has an effect on your crawl budget and Google won't crawl and index your pages.
How to recover from this
Regularly monitor your site speed. Keep a close eye on the Google Page Speed Insights metrics like FCP (First Contentful Paint), FID (First Input Delay) and Speed Index of your website's important pages. If you notice your web-pages slowing down without any changes to code, quickly check your server logs. The log files will help you determine the exact source of the extra load coming on the server. Once you are aware of the source, you can block these crawlers in the robots.txt file.
Delete your site entirely from Google
Sounds crazy, isn't it? But this can happen to your website. A team member who has quit your company and now works for your competitors might do this. Sometimes such things happen if an ex-employee still has access to the accounts.
Ex-employees (who are now working for your competitors) may make changes to your search console and completely remove the website from Google's index. He can also block all the spiders (including the Google Bot) from crawling your pages.
How to recover from this
Delete all of your ex-employee's accounts before they leave the company. Remove all permissions and access as well. This ensures that the employee does not have power over any of your assets.
If you discover that some tampering has taken place, quickly go to your search console and click on the "Removals" tab.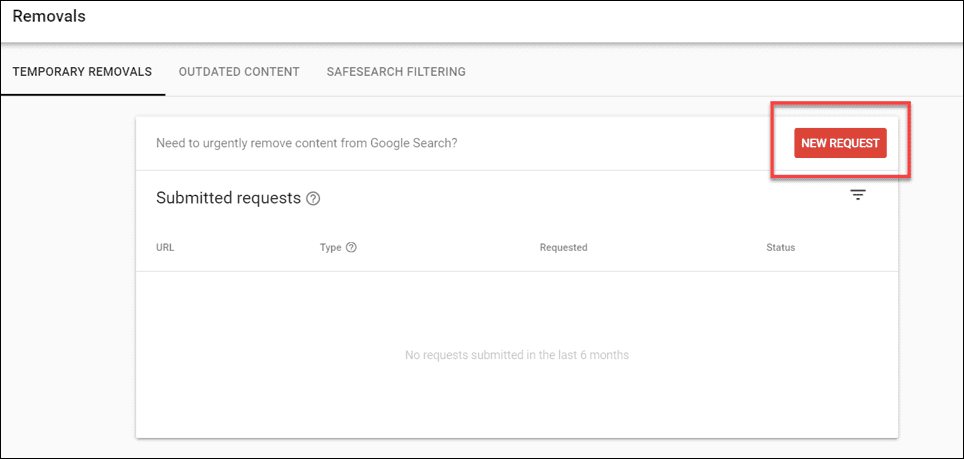 Check if any new requests have been made. Click on "Cancel" immediately and this will remove all the requests. Also, check your robots.txt file to see if any crawling bots have been disallowed.
Conclusion
There are various types of SEO techniques employed to enhance the website. However, where there is good,  there is evil. Negative SEO activities in the SEO industry are shameful but they do exist. This makes it all the more important to regularly perform website audits.
Adhere to a detailed SEO audit checklist to check all your important on-page and off-page SEO elements. This will ensure that you are aware of any of your competitors negative SEO attacks.
If you find out such attacks really late, and Google has already imposed a manual penalty, we advise you to contact an SEO agency that offers Google penalty recovery services. This will help you recover your website rankings and search traffic.
Let us know in the comments if you have been a victim to such negative SEO attacks and how you recovered from them.
Popular Searches
Google Web Stories | Slug | Outbound Links | Toxic Links | Technical SEO Tools |Guest Blogging | What is ROAS | Mobile Marketing | Google Tag Manager | SEO Periodic Table | Bot Traffic | 404 and Soft 404 Errors | SEO tips for Online Grocery Stores | Google Bert Update | Robot.TXT and Meta Robot Tags | 301 Redirects | Mobile First Indexing | Podcast SEO | W3C Validation | Link Building Tools | Local Citation | Google Multisearch | How to Deal with Plagiarized Content | Increase Youtube Views | SEO Job Interviews Questions Answers | What are the Types of Digital Marketing | What is Search Engine Optimization | What is Canonical Tags | On Page Optimization Techniques | Types of Off Page | Link Building Services | What is Image Optimization in SEO | Boston SEO | SEO Company Dallas | Houston SEO Services