Technical Search Engine Optimisation (SEO) is one of the most searched terms in the search marketing glossary. The popularity of this term has grown tremendously over the last decade.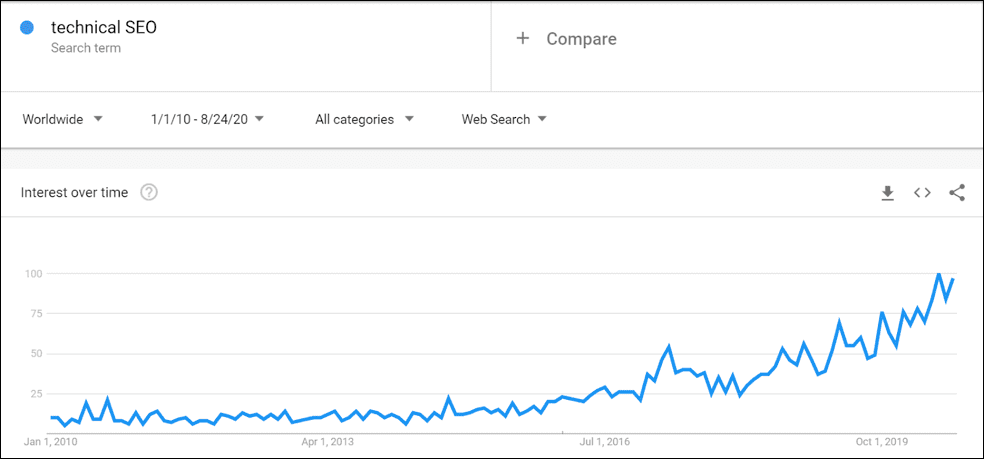 But why? As Google became more efficient with its ranking algorithms and multiple signals for ranking, the SEO experts had to make sure that they did not miss this facet of optimisation for their websites.
In this article, we will be busting myths related to technical SEO with factual information and precise analysis. All points presented in this article will be backed with data, and no other major optimization was done to affect the sample data.
First, let's answer a few questions related to technical SEO before jumping into results:
What is technical SEO?
Technical SEO refers to structural and architectural changes in the website to make it more crawler and search engine friendly.
In simple terms, when you add a top navigation to the website, it's an example of technical SEO implementation because you are internally linking your most important pages on each and every page of the website. Other examples of this could be Hreflang, Pagespeed, Breadcrumbs and so on.
What is included in technical SEO?
There are various factors and criteria to check the SEO compliance of the website, and that's only possible by doing a thorough technical audit. This audit should include checking the implementation of robots.txt, sitemap, footer, redirections and more. It should also include an evaluation of on-page factors like content, meta tags, headers tags, and so on.
How to do a technical audit?
It is possible to do an SEO audit using tools like SEMrush, Screaming Frog, Ahrefs and many other options available out there. 
With my experience and knowledge, I would suggest you consider a manual audit as well, where you can follow a definite checklist to evaluate different parameters of the website. This will give you surety about your findings as tools cannot reach every page on the website.
The big question: do technical implementations really work?
With my first-hand experience of convincing the clients about technical recommendations, they are always in a dilemma about whether to implement or not. On their part, they're right with respect to development effort and resources. But sometimes, delay in those implementations can make a huge difference in overall SEO strategy. The business objectives can be pushed months further too.
Here are a few of the cases where technical recommendations were swiftly implemented and showed us good results:
Case 1: Fixing internal links, breadcrumbs and pagination
In this case, the website was suffering with internal links that were not updated with the latest URL structure, breadcrumbs that were missing on a huge inventory of pages and pagination that wasn't implemented as per the guidelines. I know a lot of you would think, "pagination is dead; why invest time in it?" Pagination isn't an indexing factor. However, it is still used by Google for link discovery.
As soon as we identified these issues, detailed recommendations were drawn out and explained to the client on what needs to be done. With precise implementation, issues were fixed in one go and the results simply followed.

Results
Highest crawled pages a day jumped from 385K to 1 Million

Internal links increased from 6.5 M to 7.1 M

Indexed pages increased from 29 M to 31 M
Case 2: Fixing Hreflang, rendering and crawling issues
Here we had an international site, which clearly meant the involvement of Hreflang. People who have worked around this concept would agree that it's tricky and can get messy at times. This was a similar case as hreflang was implemented where it wasn't required, which caused different page rankings in different geographies.
The website was using javascript for internal linking and had very heavy use of scripts due to the platform. Important SEO provisions were missing like top navigation, pagination and breadcrumbs. 
The team conducted a detailed technical audit and listed down all the implementations required with necessary guidelines backed by references and data.
Results
56 keywords started ranking on various positions of SERP

Crawled pages saw a double jump for a single day

Should you consider technical SEO in your organic strategy?
It's an emphatic yes after seeing the above results. Technical implementations can help you with multifold growth for your organic channels and achieve business objectives. Here are the things you should follow while considering technical SEO in your strategy:
Conduct an In-depth technical audit before you start with your optimization plan

Create a tracker listing down all the issues

Provide detailed and specific recommendations to solve each issue

Prioritize the issues and their recommendations depending on its impact and priority. Please be honest here; not all implementations will give you a significant boost

Start resolving the issues as per your priority and impact analysis

Review technical implementations frequently and look for improvement signals
Technical SEO can be a gamechanger when done right. It is a high-effort high return activity in the SEO field, which shouldn't be ignored.
Popular Searches
Best SEO Company in India  |  Top SEO Company in Bangalore  |  Top SEO Company in Delhi  |  SEO Company in Mumbai  |  Best SEO Agency  |  SEO Consultants Services  |  Internet Marketing Services in India  |  Content Marketing Agency  |  Ecommerce SEO Company  |  SEO Audit India  |  Google Penalty Recovery Services in India  |  Local SEO Company  |  PPC Company in India  |  App Store Optimization Services  |  Conversion Rate Optimization Company  |  Link Building Services  |  Google Reverse Image Search  |  What is SEO  |  What is Digital Marketing  |  Canonical Tags