30+ SEO Job Interview Questions & Answers
Table of Contents:
SEO Interview Questions for Freshers 
SEO Interview Questions for Analysts
SEO Interview Questions from Industry Experts
The outcome of a job interview depends on how well you prepare for it. Interview preparations not only involve researching for your job but also how you choose to answer the questions posed. In this article, I have curated a list of top questions and answers for SEO interviews to help you get your dream SEO job.
Please note, these are some SEO questions I would ask a candidate based on the role they are applying for and may not necessarily be asked by others.
SEO Interview Questions for Freshers (or someone at the Beginner level)
The set of questions listed below are specially for someone who is fresh out of college, someone who has just completed a digital marketing course or has recently completed an internship.
1. What is SEO?
This is one of the most basic questions that can be expected during an interview, especially for a beginner.
SEO stands for Search Engine Optimization. SEO is the practice of optimizing your website to improve your site's visibility on search engines and for their users. In simple words, it is a practice that will help your site show up more often on the SERP (Search Engine Result Page) for relevant searches.
2. Name 5 basic on-page elements in SEO?
To be able to crawl and index content and direct users to it, search engines require a unique URL for each piece of content. When deciding a URL structure, you need to use your target keywords and avoid a lengthy and vague URL riddled with numbers.
Title Links (Title Links are Title Tags as most of you may be familiar with)
A title link is the title that appears on the SERP and other properties that link to the web page. Google can automatically determine the title link by using different sources, but you can indicate your preferences by following the guidelines shared by Google. A title tag is an HTML element specified in the HTML code of a webpage. 
Sample: <title>50+ SEO Job Interview Questions & Answers</title>
Google and other search engines can use the meta description tags as snippets for your pages in Google Search results. While a page's title is a few words, the description can be a sentence or two or even a short paragraph. Adding a meta description tag to each of your pages is always a good practice in case Google cannot find a good selection of text to use in the snippet.
Sample: <meta name="description" content=" Uncover the top SEO Interview Questions and Answers that will help you prepare for your next interview and ace it in the first attempt">
Heading tags can be used to define the hierarchical structure for your content. This makes it easier for the bots to crawl and understand the page better and helps users to navigate your content.
Content is undoubtedly the most important factor when it comes to on-page SEO. Without proper content, search engines won't have enough information to index your pages correctly and help you rank. One should not only look into creating new content but also update their existing content.
3. How Google Search Works?
According to me, no SEO interview questions guide is complete without this question. 
Google's mission is to organize all the information available across the globe and make it accessible and useful for one and all. In order to do that, Google Search works in three stages:
Crawling is the process of finding new or updated pages that Google can add to its database with automated programs called crawlers. The search engine will discover new pages when it follows a link from a page already known.
After a page is visited by the Googlebot or the Google crawler, Google attempts to determine the purpose of a page. Google analyses the page's content, video and image files, and attempts to understand it. This data is stored in the Google Index, which is a large database that's stored on many computers. This process is called indexing. While a majority of the pages are crawled before indexing, Google may also index pages without accessing their content (for example, if a page is blocked by a robots.txt directive).
Serving Search Results (and ranking)
When a user searches for a particular query, Google attempts to locate the most relevant answer from its index based on many ranking factors. Google tries to provide its users the highest quality answer by considering factors such as the language, location, type of device used and previous queries.
4. Why SEO is important to businesses?
SEO is the most viable and cost-effective way to both understand and reach customers in key moments that matter. SEO helps in building a website's visibility thereby improving its presence online. Apart from that, SEO is relatively cheap and cost effective as compared to other marketing channels. 
With the pandemic, a lot of consumers turned to online markets to address their needs. A lot of businesses and brands turned to SEO to cater to their online audience.
5. What is an anchor text? Explain its importance in SEO
An anchor text is the clickable part in a text. In the previous sentence the term 'anchor text' is used as an anchor text that will help you move from one web page to another with a click. By hovering your mouse over the anchor, you can confirm it links to Infidigit's blog on anchor text.
It is usually placed between the opening <a href> and closing anchor tag </a>. Below is a snippet of how the code looks like:
<a href="https://www.infidigit.com/blog/anchor-text/">anchor text</a>
An anchor text enhances user experience by helping users know more about a specific topic with a simple click. The more relevant the anchor text the easier it is for the user to make a decision if they want to click or not. It also gives search engines a big clue about the content of the linked page.
6. Is it recommended to use multiple H1 Tags & H2 Tags on the same page?
HTML has six different title tags – H1, H2, etc. The various heading tags can be used to define the structure of a webpage, where H1 is considered as the most important heading and the H6 as the least important. Primarily H1 tag indicates a primary heading on a page that sets the context of the page for the users and the crawlers. Similarly, H2 tags indicate the sub headings used to provide outline and support the H1 tag. 
There is a common misconception that you can use just one H1 tag which is not true. It is absolutely okay to use just one H1 on a page, but multiple H1s can be used as long as they are not being overused to the point of spamming, and fit contextually within the structure of the page.
7. How do backlinks help your website?
When one website links to a different website it is considered as a backlink. A relevant website linking back to your website helps search engines consider your website as a reliable source for its users. Backlinks play a crucial role in sending a signal to search engines about the authenticity of the content on your website. The quality and quantity of your backlinks can also help you rank higher in search engine results pages.
8. What are different types of Sitemaps?
Primarily there are two types of sitemaps:
XML Sitemaps are further divided into the following types:
Image Sitemap

Video Sitemap

News Sitemap
9. How do you approach keyword research?
For this question the answer may vary from person to person. Below are a few points on my approach keyword research:
Firstly, understand the business

, niche, target audience and goals

Create a list of products or services the business/website offers

Make a list of seed keywords

Use keyword research tools to get a wider range of keywords and search terms 

Finalise the set of keywords and mapping with the search intent 
10. How to optimize images for SEO?
Use the alt attribute – The image should have a descriptive filename and an alt attribute description. The alt attribute allows you to specify alternative text for the image if it cannot be displayed for some reason.

Help search engines find your images – An image sitemap can provide Googlebot with more information about the images found on your site. This increases the likelihood that your images would be featured in Google Images results.

Resize your images – Images with higher resolution and larger dimensions increase the page load time. Try providing the best resolution at the lowest file size to enhance the performance of the page.

Use standard image formats – Some of the most common file types supported by most browsers are JPEG, GIF, PNG, BMP and WebP image formats.
The above listed SEO interview questions and answers are aimed towards freshers or individuals with about a year's worth of experience. 
Candidates with more experience can read on the following advanced SEO interview questions.
SEO Interview Questions for Analysts
 What is Mobile First Indexing?
Mobile-first indexing means Google predominantly uses the mobile version of the content for indexing and ranking. Historically, the index primarily used the desktop version of a page's content when evaluating its relevance to a user's query. Having said that, it is important to optimize the mobile and desktop version equally and maintain parity on how your webpage appears to the users on different devices.
2. What are some of the essential qualities required an SEO analyst must have?
As an SEO professional, one must have a thought process that is data-driven and results-based. The job of an SEO analyst is not just to recommend meta tags and build backlinks. One must have skills that help business owners test, analyse and come up with strategies that help websites improve the user experience and rank higher on the SERP. In my opinion, below are a few qualities that an SEO professional must possess to achieve the results:
Good Communication – There are times when an SEO analyst is unable to get a task implemented because the client is not ready to buy them. This can at times be avoided if one is able to communicate to them effectively. Good communication skills will ensure everyone around you, including your colleagues and clients understand you better. 

Project Management – As an SEO specialist, you need to plan your work, meet deadlines, and achieve your goals. Project management skills will help you in organizing and prioritising your deliverables. 

Analytical Skills – Analytical skills are a must for an SEO analyst. An SEO analyst must be able to export and interpret the data to get the desired results. Every action taken during an SEO campaign should be measured and one needs high analytical skills to do so

.

 

Inquisitive and Adaptable – SEO is a dynamic field with new updates and algorithms released almost every month. An SEO specialist must be inquisitive in nature to learn about these changes and also adapt to them to stay relevant in this competitive industry. 

Decision Making – Good decision-making skill is essential if you want to make it big as an SEO professional. This is obviously something that comes with time and experience but a skill that one must have.  
3. What are accelerated mobile pages (AMP)?
Accelerated Mobile Pages, also called AMPs, is an open-source coding project created by Google to help websites load faster on mobile devices. Accelerated mobile pages are essentially stripped-down HTML copies of existing webpage content that offer faster load times than standard HTML5 documents. Accelerated Mobile Pages were announced back in 2015 and had significant importance back then. With Core Web Vital and Page Experience coming into play it doesn't really matter if you use AMP or not. Also, if you are already using AMP and it's working for you, there's no need to change that.
4. How do you measure SEO success?
There are various ways one can measure the success of an SEO campaign. Some of the most common ways are by comparing the keyword rankings, growth in traffic and improvement in the conversion rate. 
5. If you saw a significant drop in weekly rankings, what would you check first?
Different SEO analysts may have different approaches to analysing the ranking drop. The first thing that I would do is search for the term on Google to see if the rankings really dropped or it's the rank tracking tool that's acting up. Secondly I would reach out to GSC to check if there have been any abnormalities or patterns that need immediate attention. This would also help me understand if the rank drop has impacted the traffic coming on to my website. Alongside, I would also check for any recent updates that I might have missed since Google rolls out a new algorithm update almost every day.
6. Is it important to improve the page speed of a website?
Page speed may not be a direct ranking factor but can act as a deciding factor if you are at par with your competitors with all the other factors checked. Lately Google has also been asking business owners to focus on providing better user experience by improving the Core Web Vital scores. Enhancing the page load time not only improves the user experience but also helps you in improving the conversion rate as faster pages are more efficient and provide a much better on-page user experience.
7. How do you stay up to date with Google's changes as well as industry changes?
To answer this question, you'll want to talk about any specific blogs or newsletters you follow. You could also mention some SEOs around the globe you follow on Twitter or LinkedIn. Below are some of the sources/personalities I personally follow to stay updated.
News:
https://www.infidigit.com/news/
Blogs:
https://www.infidigit.com/blog/
https://www.searchenginejournal.com/
News Letters:
SEO FOMO rel="nofollow" by Aleyda Solis
SEO Notebook by Steeve Toth
(Click on the link and register with your email address to get weekly updates)
Twitter:
Lily Ray – https://twitter.com/lilyraynyc
Brodie Clark – https://twitter.com/brodieseo
Lyndon NA – https://twitter.com/darth_na
Glen Gabe – https://twitter.com/glenngabe
Barry Schwartz – https://twitter.com/rustybrick
Whether you're getting ready to answer beginner or advanced SEO interview questions, you might find that your SEO skills need a tune-up or upgrade.
Regardless of whether you're preparing to answer beginner or advanced SEO interview questions, you always need to keep your SEO skills upgraded.
8. What are some of the key points to consider while doing a domain migration?
Domain migration is the process of moving a website from one domain to another and involves migrating all content and resources. Below are some of the key points to consider while doing a domain migration:
Map the Old URLs to New URLs

Set up 301 redirects from Old URLs to New URLs

Make sure all 301 redirects are pointing to the canonical URLs on the domain you are migrating to

Make sure the pages on the new domain are crawlable and indexable and has the right meta robots directives (index, follow) and that crawling is allowed in the robots.txt file 

Google Analytics code is set up and running

Make use of the Change of Address tool in Google Search Console to let Google know about the change in domain
9. How to deal with link penalties?
Among the list of penalties by Google, the most frequently experienced Google manual penalty is the one applied as a consequence of unnatural inbound links to a website. In order to recover from a link penalty, you can follow the below steps:
Conduct a full backlink audit using various tools like GSC,

SEMrush, Moz

& Ahrefs.

Make a list of all

questionable backlinks that need to be reconsidered or discarded. Here again you can make use of various tools like SEMrush and Moz to identify the toxic and spam score to help you make a better decision

Once you have created a list with the backlinks, you may need to work on getting those links removed. You can either contact the webmaster or simply create and upload a

disavow file.

And finally submit a reconsideration request.
Below is a comprehensive list of factors and their combinations that can lead to manual penalties.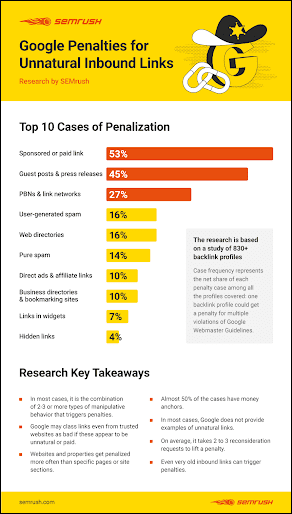 10. What is the difference between Client-Side Rendering (CSR) & Server-Side Rendering (SSR)?
JavaScript has changed modern website's structure and the user experience drastically. And for SEOs it's a super-hot topic right now!
SSR is the process where your website content is rendered and displayed through your own servers. Whereas CSR is a process where your web pages are rendered directly in the browser.
In terms of SEO, Server-Side Rendering is a better option than Client-Side Rendering. The reason being, server-side rendering at times can speed up page load times, which not only improves the user experience, but can help your site rank better in Google search results.
Bonus Questions!
Q. What's better than a set of SEO interview questions under one bucket?
A.  Set of SEO interview questions by some of the top SEO professionals across the globe!
I reached out to some of the SEO professionals I've been following for a while and asked them if they could help me with a few SEO Job Interview Questions they would ask during an interview. 
Below are some of the questions suggested by Lily Ray – New York based SEO Professional with more than 10 years of experience.
1. What is the difference between noindex, canonical and robots.txt?
1. Noindex tag – A 'noindex' tag is a directive that instructs search engines to exclude a page from the search results. In order to obstruct a search engine from not indexing a page, simply add the following meta robots tag to the </head> section:
<meta name="robots" content="noindex"/>
2. Canonical tag – A canonical tag is an HTML specification in the header area of a website's source code. It refers to the master page – the canonical URL – for websites with the same or similar content. If a canonical URL is correctly marked, search engines will index this source only, meaning that duplicate content issues can be avoided. For example, the canonical URL for the current page looks like this: <link rel="canonical" href="https://www.infidigit.com/blog/seo-job-interview-questions-answers"/>
3.  Robotx.txt – A robots.txt file tells search engine crawlers which URLs the crawler can access your site. A robots.txt file must be specifically named "robots.txt" and be placed in a website's top-level directory. This is mainly used for managing your crawl budget and not for keeping a web page hidden from Google. Some of the most common terms used in a robots.txt file are shown below:
User-agent: Each search engine bot or crawler is identified as a user agent
Disallow: A command used to tell user-agents to not crawl a particular URL or subfolder
Allow: A command used to tell user-agents if a particular URL is accessible even though its parent page or subfolder may be denied
2. Name two examples of how canonical tags should be used
We have explained what a canonical tag is, and what is the objective behind using one. Let us look at a couple of examples on how they can be used.
Scenario 1 – Self-referential canonical tag
A self-referential canonical tag is a tag that is defined on the main version of the page; irrespective of duplicate pages elsewhere.
Example:
As showcased above the canonical URL for the current page https://www.infidigit.com/blog/seo-job-interview-questions-answers will look like:
<link rel="canonical" href="https://www.infidigit.com/blog/seo-job-interview-questions-answers" />
This canonical tag will be added even if there are no other duplicate pages of this URL
Scenario 2 – Duplicate or Near Duplicate Pages
One of the most common practices to indicate the master copy of a webpage
Example:
Let us take a scenario of a website that sells 'Blue Jeans' online, which has different pages with the same content. Therefore, it might have different URLs for the same page such as
URL 1: https://example.com/blue-jeans

URL 2: https://example.com/jeans/blue-jeans

URL 3: https://example.com/blue-jeans/utm_campaign
Let us assume all three pages have similar content or are exact replicas of each other. Such pages may be created due to technical challenges or limitations in technical knowledge. Here, one needs to decide the master page and add canonical tags accordingly. We will consider URL 1 as the master copy and the remaining URLs as the replicas, the canonical tags for each of the pages will be as follow:
URL 1: https://example.com/blue-jeans
<link rel="canonical" href="https://example.com/blue-jeans" />
URL 2: https://example.com/jeans/blue-jeans
<link rel="canonical" href="https://example.com/blue-jeans" />
URL 3: https://example.com/blue-jeans/utm_campaign
<link rel="canonical" href="https://example.com/blue-jeans" />
Scenario 3 – Cross Domain Duplicates
Here you will be using the same canonical on two separate domains having similar content. This practice tells Google that the main article is posted on a specific domain and has been re-published on another.
Example:
If this article is published on a different domain, for instance on https://example.com the and URL structure is https://example.com/seo-job-interview-questions-answers, we will add a canonical with our domain as showcased below.
<link rel="canonical" href="https://www.infidigit.com/blog/seo-job-interview-questions-answers" />
This is often done as a part of content marketing where the same articles are published on multiple domains to reach out to a wider audience.
3. How can you tell if a page is indexed using GSC?
In order to check if the page has been indexed or not one can follow the below steps:
Go to Google Search Console

Navigate to the URL Inspection tool

Paste the URL into the search bar to check the status

Wait for Google Search Console to check the URL
Below are the snapshots of how pages appear when they are indexed vs not indexed:
Indexed

4. How would you like to use GSC for technical purposes?
There are numerous ways to make use of the Google Search Console for technical purposes. Below are some of the ways I like to use GSC for technical audits:
1. Google Search Console robots.txt testing tool
I use this tool to check if Googlebot is able to access my site / individual pages and see warnings and errors.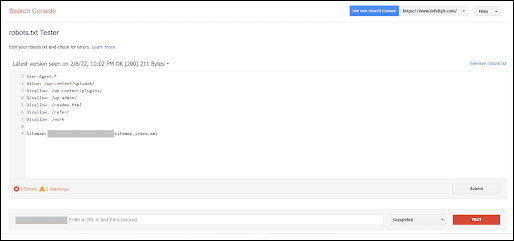 2. Sitemaps
This section helps me determine whether Google is able to retrieve my Sitemap URL or not. 
Additionally, it helps me understand the total URLs discovered. 

3. Coverage Report
This report shows which URLs have been indexed by Google and can be found on Google.
It also shows the URLs with errors and URLs that were ignored by Google when they were crawling the website.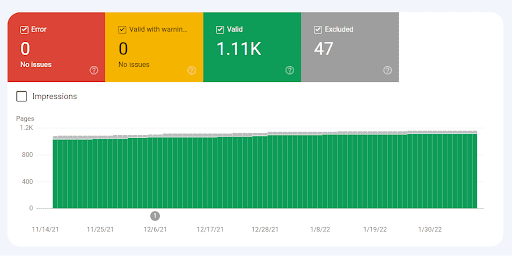 4. Mobile Usability
I use this tool to check if there are any issues with mobile-friendliness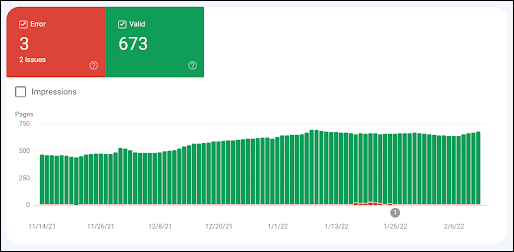 5. Enhancement
Under the Enhancements section in Google Search Console, you can view the types of Rich results implemented on the site.
Also, it shows the errors within each schema type.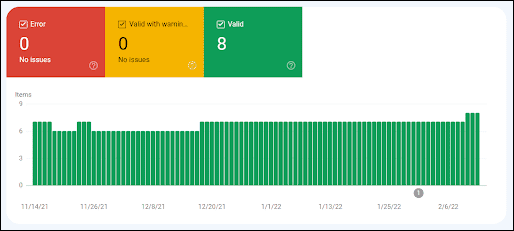 Here are some questions by Parth Suba – An SEO Strategist and a speaker with 5+ years of experience.
1. What is the difference between index and crawl?
Crawling is the process where search engines send out a team of bots (Spiders/Crawlers) to look for newly updated content on the internet whereas indexing is the process where a huge database of the content they have discovered is stored.
2. What does blocking Google bot in robots.txt do?
Blocking Google bots using robots.txt will only restrict the bot from crawling the site/page. This will not restrict the bots from indexing the pages or appearing on the SERP. Based on external information such as incoming links, Google may still decide to show the URL in the results.
3. What is status code 410? Why is it important?
A 410-status code means the requested resource has been permanently removed and is no longer available. Not to be confused with a 404 status code that means the resource is not present at the given location or never was. However, from an SEO perspective both these pages are dropped from Google's index as quoted by John Mueller. The 410 code is a clear signal to search engines that the page is not going to return, helping search engines to de-index the content immediately.
Here are some questions by Lazarina Stoy – A Technical SEO & Innovation Manager with more than 5 years of experience in the Digital Marketing industry. Most of these questions need to only be answered based on personal experience in the SEO field.
1. What SEO techniques and tactics have you tried that did not work for you?
This is a subjective SEO interview question we can't help you with, but you have to anticipate and be ready to answer the question.
2. What SEO techniques do you swear by?
Again, the answer to this question will vary from person to person depending on their expertise and knowledge in the field of SEO. Some of the techniques that have worked for me are as follows:
Content is King – Focus on content, quality content! Trust me, you will never be disappointed
Semantic SEO for the win – Understand the user intent and go all out to provide data to the users
Focus on building internal links – Links are important for SEO, right? So why not focus on building internal links first and the spend on building external links
3. How will you go about recommending a schema strategy for a site that has no structured data implemented?
Structured Data is an SEO strategy to help your content to be understood explicitly by search engines and stand out in the search. I have a website that has no structured data. There are 30+ schema markups shared by Google and many more by schema.org to help your site display in richer features in search results. 
In order to recommend a schema strategy for a site that has no structured data implemented, you need to figure out what pages you want to optimize and which schema will help you to get the best organic search results.
Below is a tabular representation of how one can logically map to see what pages you should optimize with what type of schema. Here, we've used an IPL team, Mumbai Indians, as an example to showcase the types of schemas that can be implemented.
| | | |
| --- | --- | --- |
| Key Business Concept | What is it? | Where is it on the website? |
| Mumbai Indians | Sports Team | https://www.mumbaiindians.com/ |
| Players | Person | /players |
| Upcoming Matches | Event | /fixtures |
| News | Article | /mi-junior/news |
| Merchandise | Product | /shop |
4. What are the data sources you use to inform an SEO strategy?
You'll answer this question in light of your own experiences and knowledge. Factors you could specify include knowing the short- and long-term goals of the business, the competitive landscape and market share, target audience, etc. 
A few questions from Amit Tiwari – An SEO Strategist and a speaker with 5+ years of experience. Below are some questions that help them to gauge the analytical thinking of the candidate.
I hope you find these SEO questions & answers helpful and that you'll be able to prepare yourself for your SEO interview. If you liked the article, feel free to follow me on LinkedIn or Twitter. I keep sharing my experiences and insights there.
Read More :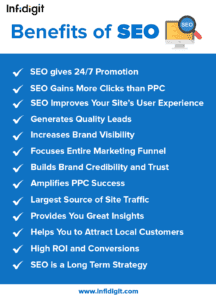 Popular Searches
Ad Groups | SEO Tips For Creating Better Content From Google John Mueller | Display-Advertising | Redirects | Anchor Text | Pogo-Sticking | SEO Competitor Analysis | Google Penalty  |Common Robots Txt Mistakes | Breadcrumbs | Seed Keywords | Rankbrain Update |Search Term |SEO Skills Required To Become An SEO Expert | Social Media Marketing | Mobile Optimization | Content Ideas | Pagination | Website Speed Optimization | SEO For Yahoo | Natural Links | Importance Of Robots Txt | Local Link Building |Low Competition Keyword |Pdf SEO | How Many Types Of Digital Marketing | What Is SEO And How It Works | What Are Canonical Tags | On Page SEO Technique | Importance Of Off Page SEO | Link Building SEO Services | How To Do Image Optimization | Dallas SEO Agency | SEO Service In Houston| Boston SEO Company